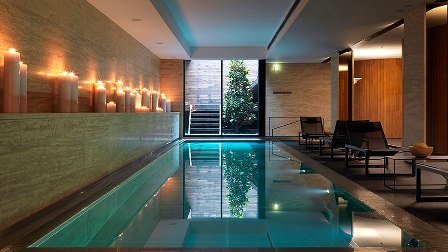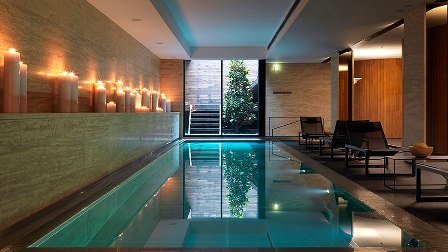 I do love spending time in a nice spa, however I'm not usually one for massages. When I visit a spa, I tend to stick to the hot tubs, saunas and steam rooms to relax, however, I can honestly say, this has recently changed! A friend of mine gave me a wonderful gift of a full body aromatherapy massage at Sense Hotel. (I have lovely friends!) After having quite a busy few weeks of working and travelling, the idea of a relaxing afternoon at the spa and a massage did seem quite nice indeed. I booked myself in by phone and went to see what all the massage fuss was about!
When I arrived at Sense Hotel I took the elevator down to the Spa. There I was greeted by a helpful receptionist who showed me to the changing rooms and explained what I needed to change into (they supply a nice robe and slippers). When I was ready, I met my therapist who took me through to the spa. She explained to me in detail about what the massage involved and allowed me to choose which aromatherapy oil I liked the most. I opted for an energising oil as it was the middle of the day and I didn't want to get too relaxed and sleepy! The smell was amazing and she even added some oil into a bowl of hot water for me to inhale while I was being massaged.
As I said, I'm no massage expert, but I can tell you that the whole experience at Sense was incredible. I felt very comfortable and relaxed. My therapist was great at making me feel at ease and the full body massage was so soothing. The massage was 55 minutes long, however the time flew by. I enjoyed it so much that I could have spent another hour there I'm sure! Afterwards, I was offered a cup of herbal tea which I could enjoy at the poolside. It was very peaceful and was the perfect way to end the rest of the afternoon. The full body aromatherapy massage is 80 leva (40 EUR) for 55 minutes. Next on my treat wish list is the Hot Stone Massage which is 100 leva for 55 minutes. (I have a feeling it will be worth every stotinki!)
If you haven't thought about it before, consider spending a couple of hours at the Sense Spa in Sofia. It will definitely give you the chance to escape and unwind and they have an incredible range of treatments available. This will also make a great gift for a friend!
You can check on the Sense Hotel website for more information and call them on +359 2 4462510 to make a booking.