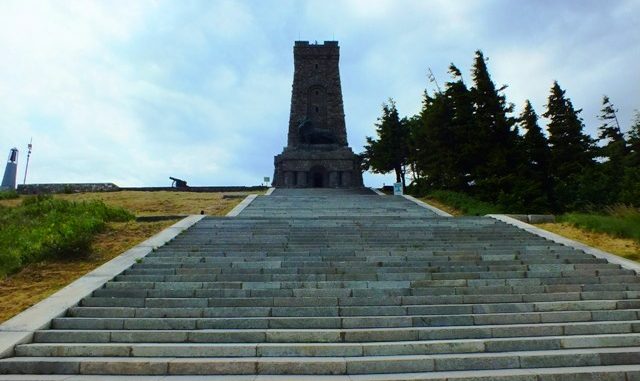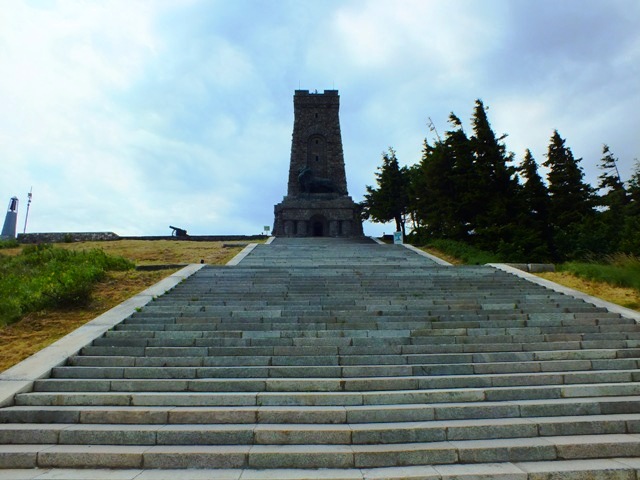 On my recent trip exploring the region of Gabrovo, the Shipka Monument was definitely one of the most special places I visited.
Construction of the monument began in the 1920's and it officially opened in 1934. It is a memorial to all those who died fighting for the freedom of Bulgaria during the Russo-Turkish war in 1877-78.  The monument is 98 feet tall and stands at the top of the Shipka Peak. The entrance is guarded by a large, proud bronze lion. You can either take all the steps up to reach the tower, or, you can drive to a point just below the tower and take fewer steps (this is what I chose to do!).
Once inside the tower you will see a marble sarcophagus on the lower level which holds some of the Russian and Bulgarian soldiers remains and a figure of a woman who represents the victory over the Ottoman Empire.
You will enter a small door which leads you up a very narrow staircase to the next level where you will find the Samara flag (an important symbol for the Bulgarian army) and various items relating to the war. As you continue up four more floors, each floor has interesting facts and pictures telling the chilling and sad story of the war. Finally, you will reach the rooftop where you will see incredible views of Shipka Pass and the surrounding Bulgarka Nature Park. Being inside the tower and learning of this terrible war and the suffering of the men fighting is quite an emotional experience. Even the weather turned grey, cold and windy when we reached the monument which seemed fitting considering the soldiers were up there struggling to survive in freezing temperatures for months. If you are interested in Bulgarian history then you really must visit this memorial.
I also found it interesting to see the Buzludzha Communist Monument in the distance from the Shipka Monument. Seeing such contrasting monuments stand almost side by side on the hilltops is quite an example of the extreme changes in Bulgarian history.
The Shipka memorial monument is open daily from 9am-7pm in the summer months and 9am-5pm in the winter. The entrance fee is 2 leva per person (1 leva for students). Parking next to the monument is free.