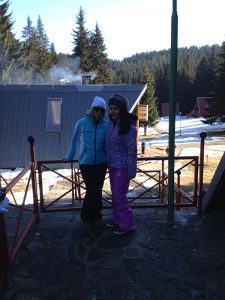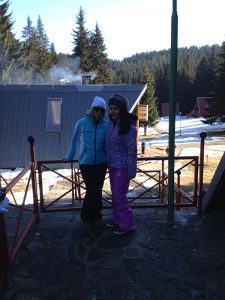 It's a lovely sunny day in December and we have just arrived in Pamporovo after a four hour drive from Sofia. There isn't much snow around so we're a bit worried about our ski lessons but we head straight over to the ski school to find out. We go inside a cosy restaurant with a log fire and see around 20 people in ski gear all enjoying lunch. We meet the owner of Interski and he tells us that there's enough snow on the mountains so we should get changed and be ready to start our lesson at 1pm. Excited and very nervous we go to find our accommodation. We've booked a cabin in the Malina Village. The website showed gorgeous wooden cabins in the forest surrounded by snow, a typical ski retreat. On arrival, aside from the minimal snow, we were not disappointed. We checked in at reception (another wood cabin) and were directed to ours, number 14. A short walk and we were at our front door. Inside the cabin was basic but warm and perfect for 4 people. Downstairs, there's a small living room area with sofas and tables, a mini kitchen and a good size bathroom. Then climb the narrow wooden staircase and you will find two bedrooms, both with just enough space for the beds, no room to stand but very cosy nonetheless. After admiring our new temporary home we change into our ski gear and decide to grab some lunch before we start our lesson. Although Pamporovo is quite a small town there's plenty of choice when it comes to eating out and we opt for one of the small restaurants in the centre. Surprisingly they served a delicious English breakfast, just what we needed to fuel us for the task ahead!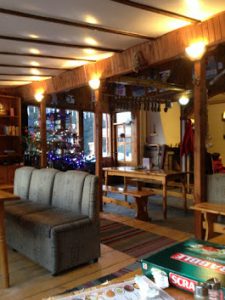 The first thing you need to know if you've never skied before is that the boots are heavy. When I say heavy, I mean you can barely lift your legs once you've put them on! I immediately felt that this was not going to be for me, leaving the ski rental shop carrying my skis and walking like Herman Munster, I was actually full of fear. A few minutes walk and we were on the snow, a relief from walking in the boots washed over me but this was soon replaced by a new fear, I now had to put on the skis! With some help from my instructor I was clipped in and ready to go and when I say go, I mean stand in one spot and hope that no one would knock me over! We'd booked the instructor just for us three, the fourth member of our group was already an expert and while we were figuring out how to put on our boots he'd already got halfway up the mountain with his snowboard! So our lesson began, and much to my despair the first thing we were asked to do was fall over. Now, I'm clearly no expert, but I was kind of hoping that falling over would be avoided as much as possible! I protested but was informed that it's an important part of learning, so that you can fall without hurting yourself (something that became incredibly useful later!). After this, we began the usual routine, how to bend your knees and how to slide and stop. I actually found it easier than I thought I would although at this point I am on a slope full of five year olds so I can't really be too proud of myself! After two hours the lesson was over and exhausted we went back to the cosy après-ski bar for a much needed beer. The next day followed very much the same routine and by the end of it I felt ready for the mountain, a big, brave step for me! Now, one of my group, a very good friend of mine was not finding it quite so easy. After day two, she was still struggling to even stop and at one point had quite an epic crash, taking the instructor with her. It was the baby slope so no injuries occurred although the instructor did tell her that she wasn't ready for the big slope and needed a private lesson the next day, it was either that or a refund, something that we found hilarious, she'd been kicked out of our ski class, brilliant! She wasn't too upset; after all, she'd not taken to it anyway and was quite happy to relax in the bar.
So day two was over and it was New Year's Eve, time to party! We'd booked dinner at the Malina resort as they were offering an all inclusive night of dinner, drinks and dancing and it meant we could simply stumble back to our cabin after. They delivered exactly what was promised with a bottle of wine each, a mountain of food and a bottle of bubbly at midnight (which was fun to pop open but didn't taste that great so we stuck to the wine!) There was live music and traditional Bulgarian dancers and we even got to watch fireworks from all around us in the mountains at midnight which was stunning.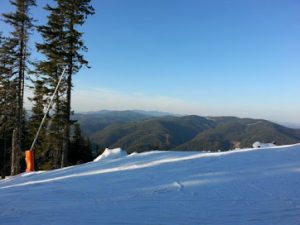 Next morning with a slightly sore head I was ready to take on the mountain. After a lot of coffee and a delicious breakfast at Malina it was time. Ski boots back on and this time to the ski lift. Obviously I'd never been on a ski lift so I was a bit worried about how exactly I would get on and off! Again, the instructor was by my side but I was nervous, so much so that I actually shed a few tears as we were about to get on, silly, but at the time I had no control. Our turn came and we jumped on easily. I started to calm down and tried to enjoy the view on the 20 minute journey to the top. As we approached I was getting worried again, as the bar lifted the instructor grabbed my hand and made sure I didn't fall as we skied off. It was beautiful, brilliant sunshine and gorgeous views. We took a minute to enjoy our surroundings and I felt so lucky to be starting the New Year in this spectacular place. At first I was doing great, it was quite flat and I was gliding along happily. We went down the first slope slowly and my confidence was picking up. I was skiing! For the first 20 minutes we continued at a nice slow pace and I was really enjoying myself. Then, a steeper slope appeared. I was ready; we got in line, instructor, then me, then my boyfriend. He told us to go nice and slow as it was icy so we fixed ourselves in snow-plough position and went for it. All was going well until I heard the scream from behind "I can't stop". This is your worst nightmare when you're inexperienced and have no idea how to move out of the way! Next thing I knew my boyfriend and I were on the ground and with one ski in one direction and one in the other I couldn't move, instructor to the rescue again! Back on our skis and time to try again! Another 20 minutes and I was getting tired, the fall had hurt a little and my legs were tired from the three days of skiing. They started to go weak and numb. We stopped for breaks but when I saw the last slope and couldn't feel my legs any longer I knew I couldn't make it. I didn't want to give up but I was exhausted. Rather than take off my skis and walk my instructor had a better idea, hold on to his shoulders, put my skis straight and fly with him to the bottom, it was fantastic! We were going so fast and I didn't have to worry about falling or crashing at all! When we got to the bottom I felt like I'd been on a roller-coaster!
Our last evening consisted of a nice quiet dinner as we were all tired by this stage. We relaxed back at our cabin with a bottle of wine, a perfect way to end the trip. Next morning it was another lovely breakfast, the boys went back on the slopes for a couple of hours while the girls enjoyed coffees and then back in the car for the four hour drive back to Sofia. Pamporovo was fantastic and we're planning to do it all over again this year. Are you considering learning to ski in Pamporovo? Let us know, maybe we'll see you there!