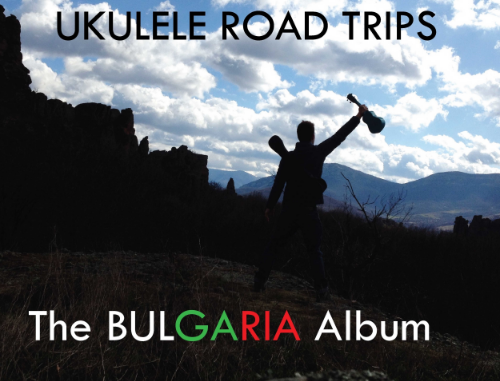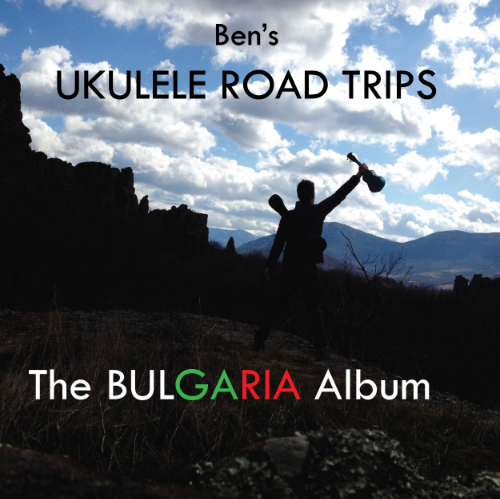 When a friend of mine told me that he'd met this guy called Ben who was travelling around Bulgaria with a ukelele and writing songs, I just had to find out more!
I went on to Ben's website and started listening to some of his songs. I immediately became a fan when I heard 'Rocks' performed in Belogradchik, it's impossible not to love this! So, I thought I'd contact Ben and ask him a few more questions about what he's been up to!
Here's our interview!
Where are you from?
I am French-British and come from Normandy, which is, rather fittingly, sort of between Paris and London.
When did you start playing the ukulele and why?
I can't actually remember.  A few years ago. The Ukulele is a great instrument to travel with. It's so small and light, it fits perfectly into a backpack. So I've had a small blue one for years. And you can just walk around and play and sing at the same time! Which I have done all over Bulgaria now. It's also really really easy to learn. And cute. When I walk around with mine people are quite curious, and children always want to try it. It's a great way of breaking the ice with people when travelling.
Where did you get the idea to start a musical road trip?
Well, I've always played music, written my own songs, and loved discovering new places, going on big travels. I'm a curious person. So, I started travelling with a Ukulele and then naturally wrote songs on these trips. It felt like a wonderful way of capturing the emotion of a moment, the emotion a place conveyed.
After my studies at Uni and many different jobs, as I was asking myself what would make me the happiest last year, I knew it was travelling and writing music. So I'm doing both at the same time now ! It's great! I just built a website, took 2 ukuleles, a backpack, my laptop and a camera, and I was off to Bulgaria ! And now, it's funny, after two months and a half spent here, there's actually a whole Bulgaria Album, which I didn't expect to see happen when I landed in Sofia.
What made you decide to start your road trip in Bulgaria?
I wanted to discover new places, places that I had never seen and also places that aren't that well know to the classic euro-tourist. Inspiration, for music or other arts, is helped by the spontaneity and uniqueness of experiences. Bulgaria seemed like (and was!) a great idea. And my little sister had been on a short trip to Bulgaria last summer, and she said it was very nice. So that was all the convincing I needed.
Do you have a favourite place in Bulgaria? Why?
The Belogradchik Rocks really struck me. The landscape from the fortress is just amazing. Funnily enough not too many Bulgarians go all the way up there. But I had lots of fun dancing like and idiot on these majestic rocks while I was recording the Belogradchik Song!
Actually, most places I stopped to write a song are very special to me because writing a song for them makes me connect much more with the place. Just like my first stop in Koprivshtitsa or the one recorded in Buzludzha Monument.
How do you get inspiration for the songs? Do you visit the places first?
Absolutely. It can be very different things. Sometimes, the affection for an object or a tradition, like the martenitza song or "Bulgarian Easter". But sometimes it's places I visit how I experience them.
In Veliko Tarnovo for example, after taking part in a tour of the city, I really wanted to write a story about the first kings of the Second Bulgarian Empire, I thought their story was pretty cool. So I spent two whole days researching, reading wikipedia and writing the song "Peter&Asen: Two Brother, One Throne" which I tried to make as playful and historically accurate as possible. And I play both Peter and Asen and that's really fun. Plus recording it in the actual ruins of their old castle made it very special!Actually, the songs aren't the only thing I try to achieve on these travels. I also record podcasts with locals in the bigger cities where I go. That is a very important part of what I do because in these conversational audio recordings, I talk with the locals about their culture, their traditions, and funny or little things that make their country special. I learned so much about Bulgaria. From Asparuch to the Boza drink. And with these podcasts, I feel like I am really sharing the "Bulgarian Experience". People at home in other countries can really get to know much better the country I'm visiting, thanks to young locals. Plus, I sing a few silly songs every podcast. My mum said it was really good haha!
Do you travel alone or do you have a team to help you with recordings etc?
Haha I wish I had a team or even a person to help me out. Actually if anybody reading this would like to help me out a bit, please contact me !!
No, all alone haha. It's quite tricky, I have to write the song, find a good location, film it, edit it, create a backing track, post it, promote it… all that for 100 views and 4 likes haha! At least my mum likes it.
Same for the album, I was alone in a basement for a few days, singing playing and editing… and now, nobody in Bulgaria is buying it… but my little sister said it was really good, so that makes it fine.
Which countries will you visit and how did you choose them?
Well I'm travelling by train and bus, so, I chose Romania, where I am now, because it's next to Bulgaria. Then I'll chose another country that is next to Romania. I don't plan ahead that much. Otherwise I wouldn't have spent almost three months in Bulgaria haha! In my first song, I was kind of setting the narrative for the whole adventure, and I mention in the lyrics something like "from Eastern landscapes, right to the Isle of Scilly" which is an Island off the coast of South-West England. So crossing the whole of Europe is the plan. And I am very much behind schedule – oups! 🙂
I wanted to finish this trip towards September or October of this year. But of course, considering how my finances and the album sales and postcard sales are going (non-existent), it might be much earlier.  I tried to busk in Varna, I was averaging a couple of leva per half-hour, not exactly enough for a Euro-Trip. Lovely city though! With a bit of luck and support I will probably manage to make it to the Isle of Scilly. Nothing resists will-power.
And then next year, I can change the colour of my ukulele, and do the Green Ukulele Road Trip in South America !
Thank you Ben for sharing your story, we wish you huge success and millions of album sales 🙂   We will be following your journey!
If you have a question for Ben, leave it in the comments and we'll be sure to share it with him!