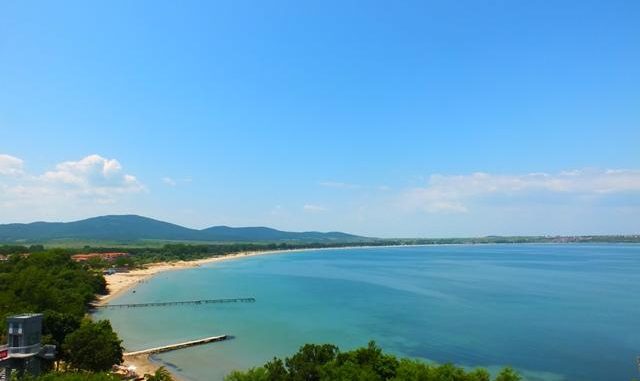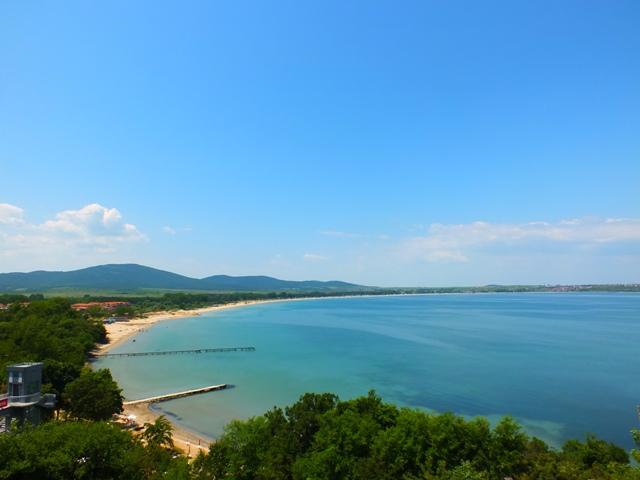 I love going to the seaside however I don't really enjoy sitting all day on a beach (strange I know!). I prefer to visit new places and go for long walks, so the perfect weekend for me was to spend a few days exploring the Bulgarian Black Sea coast.
I planned a trip from Friday to Monday. The drive to the east coast is around 4 hours from Sofia so I recommend leaving nice and early to get maximum holiday / beach time!
I had 3 places that I wanted to visit on this trip
Sunny Beach – because I've never been and needed to see what all the hype was about.
Nessebar – I had briefly visited before but never had much time to explore.
Sozopol – this was where I had my first holiday in Bulgaria and I wanted to go back to this place that's so special to me.
This is the route we took.
On Friday we arrived at Hotel Jeravi, checked in and went for a walk to explore Sunny Beach. The hotel is located right on the beach so we spent an hour there, then headed back into the hotel for dinner.
After dinner, we went to see what was happening in the centre but being early in the season it was pretty quiet so we decided instead to go to the Ancient City of Nessebar. Nessebar is just 10 minutes drive from the centre of Sunny Beach. We parked the car in a side street in the new town and then walked over the isthmus (man-made strip of land connecting two areas) to the old town. We spent the evening walking around and taking photos, I cannot put into words how magical this place feels, you really must go there to experience it.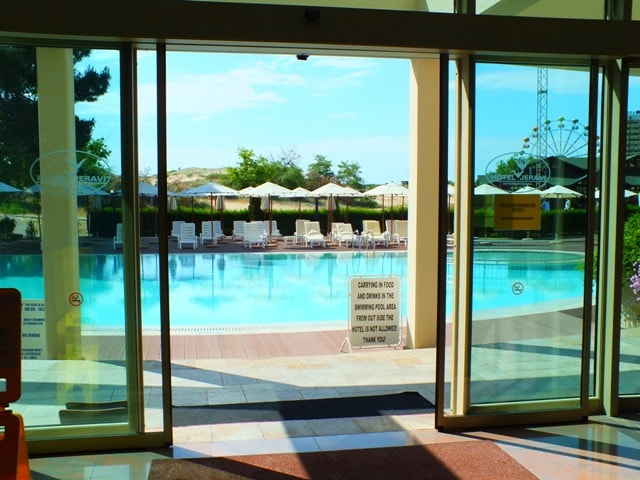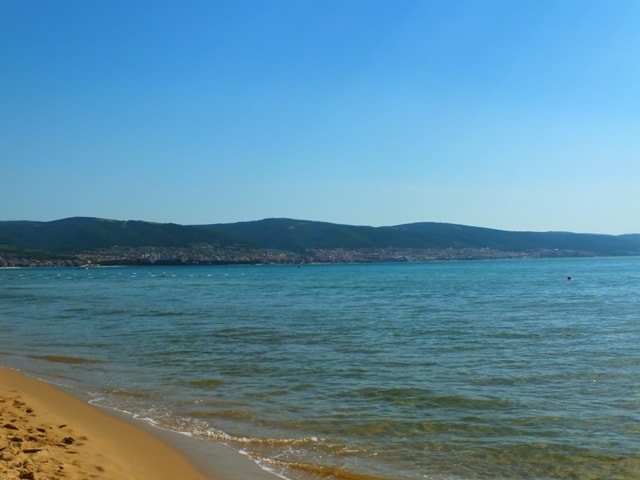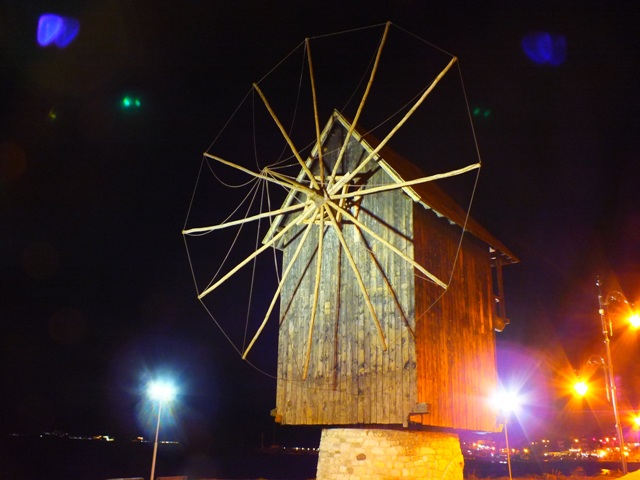 Saturday morning, after a great breakfast and a bit of relaxing by the pool we checked out of our hotel and headed for lunch. We drove into Nessebar to have a look around in daylight and came across Mario Cafe in the new town. If you are in Nessebar you really must visit this cafe for lunch or dinner, it's AMAZING!
Totally full from lunch we went to check in to our next place, Sun Village Apartments. All that eating and moving from one place to another was a bit tiring but luckily there was a great pool we could relax next to in Sun Village! The weather was perfect, the pool was huge and it wasn't busy so it was a really nice way to spend the afternoon.
In the evening we went for a walk and were attracted by the rose garden to the lovely Restaurant Bolero. Here we enjoyed a delicious meal of seafood and red wine which was wonderful!
As it was our last night in Sunny Beach we thought we should go to at least one party so after dinner we headed to Cacao Beach. We got there around 10:30pm, a little early so it was quiet but the plus side was we were able to get a great table in La Cubanita Beach Bar and it was opening night! We ordered some cocktails and waited for the party to start. Around midnight the famous Alfredo came on stage and performed some great Latino moves that got everyone in the mood for dancing!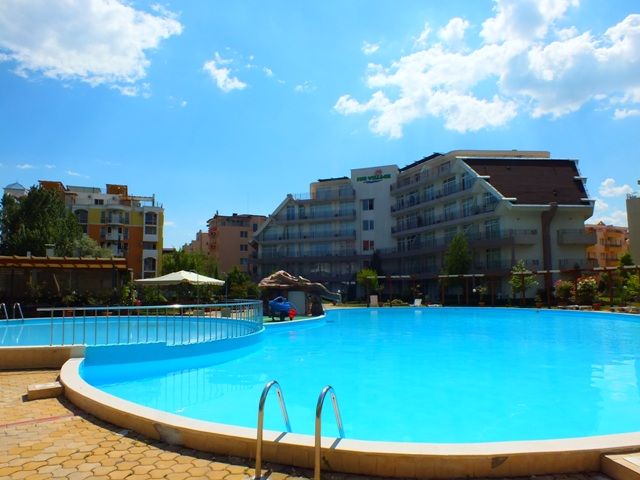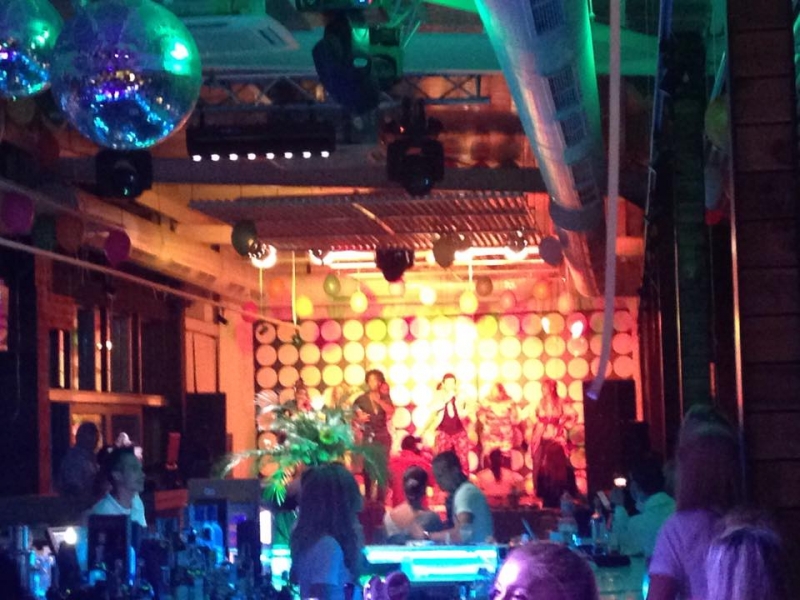 On Sunday we headed to Sozopol and to our last stop Santa Marina Holiday Village. It's around 70kms from Sunny Beach to Sozopol so the drive took us around an hour. On arrival we went straight to the town centre to one of the pancake stalls. I remember having pancakes during my first visit to Sozopol a few years ago and they were the best! This time I had a cheese and jam one and it was just as good as I remember! After getting my pancake fix we went to check in to the hotel. My trip was made even better when I went into the room and saw that our balcony looked over the whole of Sozopol's bay. It was beautiful!
Santa Marina has a private beach and many pools so we spent the day there and decided we'd go to Sozopol old town in the evening. On our way into the old town we stopped at one of the small restaurants on the beachfront and ordered the Bulgarian seaside special, Tzatza! Tzatza (Цаца) are little whole fried fish (whitebait I believe) and they are incredibly salty and tasty! Order Tzatza with french fries sprinkled with cheese and a Bulgarian beer and you are in food heaven!
After our second food treat of the day we went for a long walk around Sozopol old town, soaking up the atmosphere, enjoying the serenity and burning off those calories!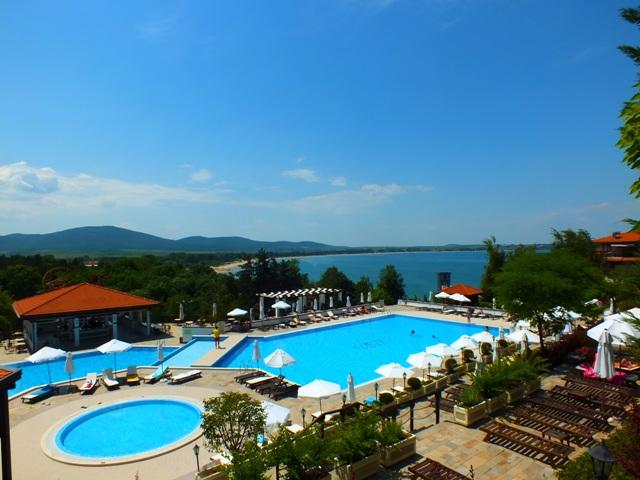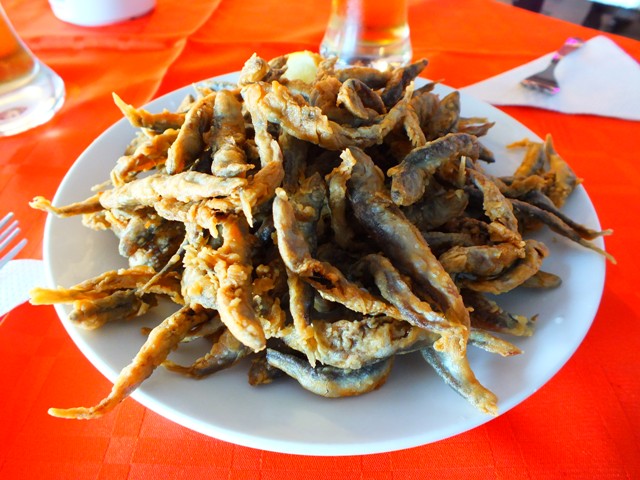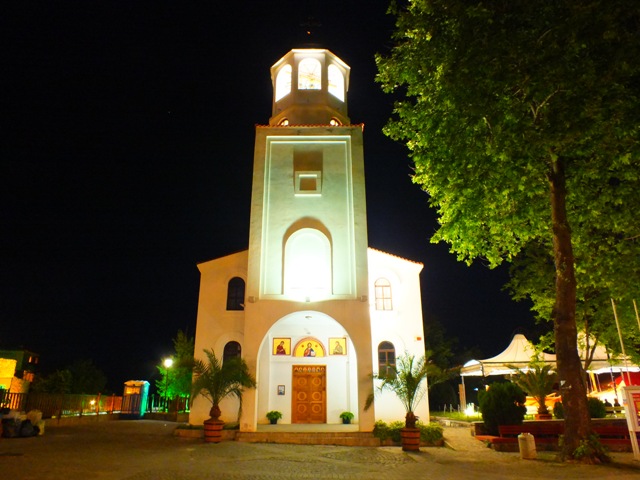 Of course, all good things must come to an end and so Monday was our final day.
We ate a lovely breakfast at Santa Marina and then spent a few hours enjoying the view from our balcony. When it was time to check out we started our journey back to Sofia. We were in no rush so we stopped from time to time to appreciate the views along the way. We arrived back in Sofia around 6pm, refreshed and happy after our Black Sea mini-break.