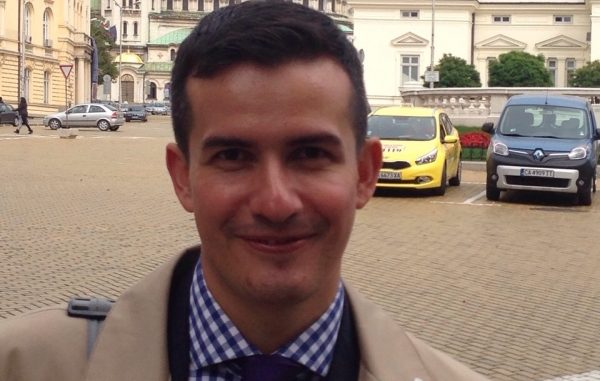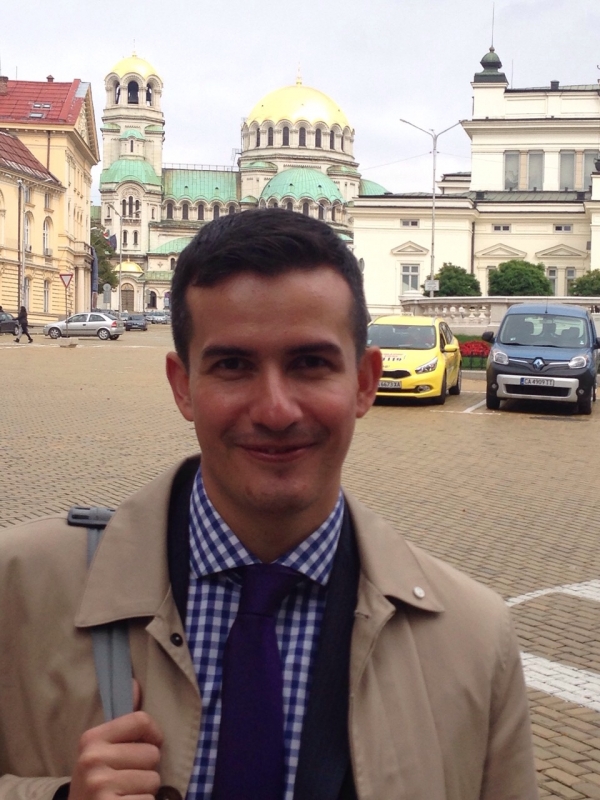 When I met Gabriel Ceballos in Sofia, a Mexican who now lives in England and travels the world recruiting students for Birmingham City University, I was really curious to hear what he thought of Bulgaria.
He kindly agreed to an interview, so on an October evening, Nina, Ellie and I met Gabriel at Beso, ordered him a glass of Rakia and started throwing our questions at him!
ESLB Girls: Gabriel, welcome to Sofia! Is this your first visit?
Gabriel: This is actually my third trip, I came first in April 2014, then July 2014 and now I arrived in September.
ESLB Girls: When you first visited did you have any expectations of Bulgaria?
Gabriel: I've been to Slovenia, I've also been to Russia and to Romania 5 times, I like the Slavic culture and I had an idea of what to expect. I knew it was beautiful with culture and lots of history but when I was shown around Sofia by a local it exceeded my expectations. Sofia has lots of spirit, it's actually quite bohemian.
ESLB Girls: Bohemian, really?
Gabriel: Yes, my Bulgarian friend likes quite alternative places like Flip Flop Bar and Hambara which is a really nice place with only candles for light and lots of intellectuals and writers hanging out there. Oh and Chevermeto, the Bulgarian restaurant close by to NDK.
ESLB Girls: Sounds like you know a lot of cool places, maybe you need to show us around! So, you like Sofia then?
Gabriel: Yes, it's diverse, the food is fantastic and the people are really warm and open. Actually it completely exceeded my expectations!
ESLB Girls: Do people in the UK ever ask you questions about Bulgaria?
Gabriel: There's not much information in the UK media about Bulgaria, in fact there's mostly negative information. When I came here for an exhibition with my colleagues they were all surprised. They thought it was much nicer here than they expected. Now they really like it, they all want to look after the region! It's a really nice surprise, a hidden gem!
ESLB Girls: Should we keep it hidden?
Gabriel: Yes probably! Bulgaria should attract the right kind of tourists, those who will appreciate the history, the culture and the nature. The tourists who just go to Sunny Beach are missing out!
ESLB Girls: Would you recommend Sofia for a city break?
Gabriel: Yes! There's a wide variety here, restaurants, places to see, nice parks and it's close to the countryside and mountains. Sofia is going to be the place for festivals in the future, it will attract a lot of people.
ESLB Girls: Have you visited any other cities in Bulgaria?
Gabriel: I've also been to Plovdiv, it's beautiful. There are quality restaurants there too and amazing nightlife. An added plus about Bulgaria is that the women are beautiful! I'm Latino, I'm allowed to say that! You really live in an amazing city!
ESLB Girls: We think so too! You explained that you recruit students for Birmingham City University, is there any difference between Bulgarian students and others from around the world?
Gabriel: From what I've seen, Bulgarian students are really looking for experience to assist their future careers. They are very hard working and professional. In general they are outstanding. The quality of education in Bulgaria is very good. They don't struggle to transit from Bulgarian to UK education at all. They also speak really good English and they tend to do a lot of research about their choice of university.
ESLB Girls: That's really great to hear. Gabriel, thank you for taking the time to answer our questions and we hope you enjoy the rest of your stay in Sofia! Nazdrave!
Meeting Gabriel was a real pleasure and it was great to hear that he loves Bulgaria as much as we do! We can't wait to welcome him back!
Thank you Gabriel!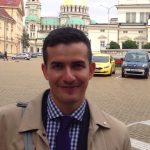 Gabriel Ceballos is from Mexico and has lived in the UK for the past two years. He is the Regional Manager for MENA, Europe and the Americas at Birmingham City University.