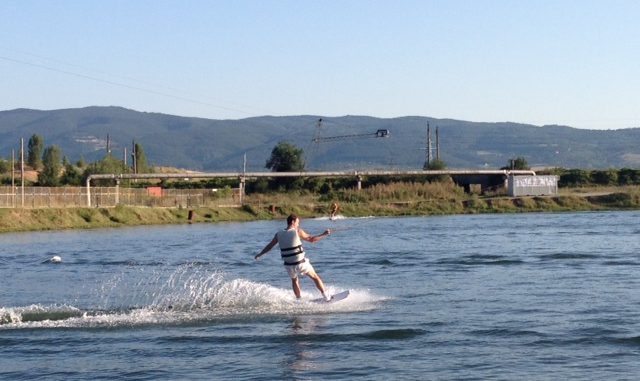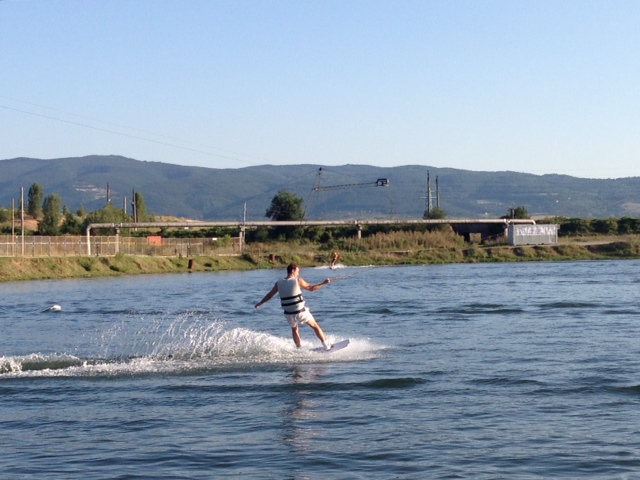 If you're in Sofia for the summer and you love water sports you should definitely check out Hydropark Kazichene for Wakeboarding. The lake is situated just off the main ring road in Sofia and around 15 minutes drive from the centre. The lake has an automatic cable meaning several people can safely and easily Wakeboard at the same time.
When you arrive head to the small hut next to the car park to pay and hire your board. In the week it's 24 leva for 2 hours on the cable and another 14 leva to hire the board, at the weekend you need to pay for a whole day which is around 50 leva plus board hire. There's decent toilets where you can get changed and also a nice restaurant with lots of outdoor seats if you're bringing someone who wants to sit back, enjoy the sunshine and watch with a cold beer. 
This is a great place for both learners and experienced wakeboarders. If you're a learner the guys will help you and give you tips on how to get started and if you're experienced there are some ramps in the lake where you can show off with some cool jumps!
As for the restaurant, the food is really nice and pretty cheap. I had chips with cheese (amazing!) and a large beer for 4 leva. I'm personally not a fan of water sports (read my blog about rafting and you'll see that!) but I do really enjoy going along to Hydropark Kazichene and just relaxing, especially after work from 5-8pm. It's nice to go to a place so close to the city but really feel like you are escaping, especially when it's 30 degrees and sunny every day! Opening times are 11am-9pm. There are breaks during that time where they stop the cable for about 45 minutes, in the evening the break is from 6pm-6:45pm. Last time I was there, during the break, one of the guys took his motorbike and did some awesome stunts next to the lake which was great to watch!
Their website is in Bulgarian but I've linked it through to the contact page with a google map so you can get there. I'm not sure if everyone there speaks English but certainly some people do so you'll be fine even if you don't speak any Bulgarian!
In the meantime check out the short video I made! Enjoy!