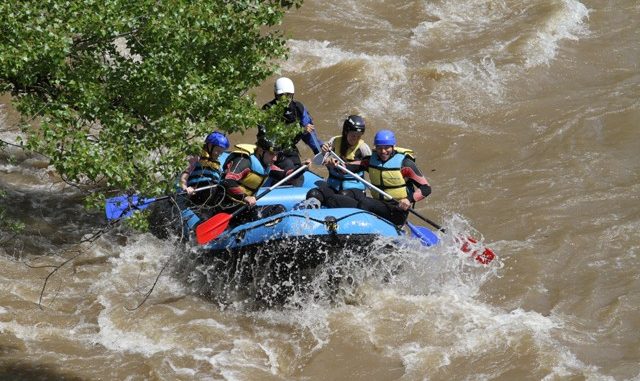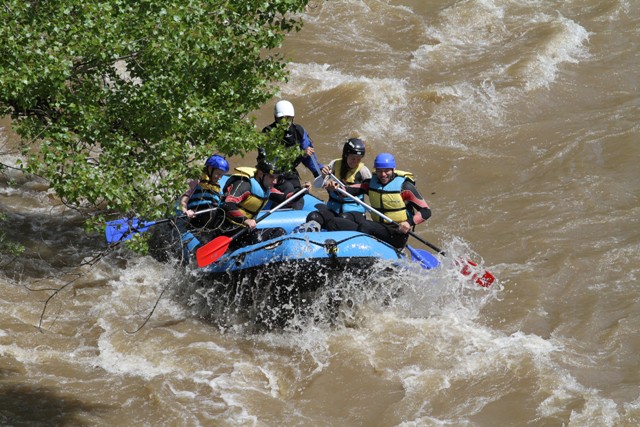 I made a promise to myself that this year I would try as many new things as possible. After all, I'm in Bulgaria, a place where there are so many things to enjoy! This is why I took ski lessons in Pamporovo earlier in the year and why I agreed to go rafting last week despite being quite terrified of water!
On Monday morning I woke up with the kind of nerves you feel when you're about to take an exam! 10am our friends picked us up and we headed to Blagoevgrad, around 130kms from Sofia. We found a nice restaurant on the way where we stopped to have a light lunch and by 12.30pm we arrived at the Adventure Net camp.
If you love camping and adventure you will love this place. There's an assault course with bridges and ropes suspended between trees, a camping area with a barbecue and a few big, but friendly, dogs roaming around. You'll find a large wooden hut with a restaurant inside serving traditional kebabs and beer and a few smaller huts that serve as changing rooms, showers and toilets. While I mention the showers and toilets I should point out that it's an adventure campsite so they're not actual showers and toilets, it's a large bucket of water and a hole in the ground inside wooden huts. If you're not a fan of these facilities you may wish to stop at a restroom on your way!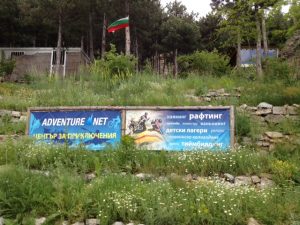 On arrival we were welcomed and invited to order a drink while we waited for the rest of the group. When all twenty or so people had arrived we went outside for our briefing. The instructors speak perfect English although I was the only non-Bulgarian speaker so the brief was given in Bulgarian with my party translating for me. We were told we would be provided with all of the gear we needed, wetsuit, helmet, waterproof shoes and life vest. They even told us how to put on the wetsuit which was very helpful for a rookie like me! You normally wear a swim suit underneath it but it was a bit of a chilly day and I had a spare pair of leggings with me so I kept those on underneath too!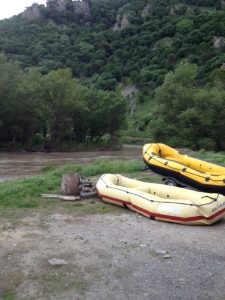 Once we were all dressed and ready to go we jumped into two vans and drove for about fifteen minutes with our rafts on a trailer behind us! When we stopped we all helped get the rafts down to the water and then had our safety briefing. At this point I was extremely nervous, shaking in fact! I listened as we were given all the instructions and what we should do if we fall into the water. I watched the river moving pretty fast and just kept thinking I really, really don't want to fall in! There were four of us in our group so we got our own raft with one instructor. He kindly re-assured me that I'd be fine and after a short hesitation and a deep breath I climbed into the raft.
The first few minutes were a really pleasant surprise. The water wasn't very rough and the instructor was giving us our instructions on how to paddle together. We were a good team, the two men at the front, two girls in the middle and the instructor at the back. We got ourselves synchronised and started racing along the river. There were about four other rafts in our group and as everybody got familiar with the rowing we were all gliding along together. The scenery in the Kresna Gorge valley is stunning, in fact the whole area is beautiful, although the water itself does look quite brown so don't expect the turquoise blue waters you find in the Caribbean! We were rowing and then stopping every few minutes to admire the surroundings, I was actually very relaxed.
Our instructor told us that the last 2kms of the 11kms total would be tough. After around thirty minutes of the "easy ride" we were ready to tackle the waves. Looking ahead I could see waves crashing onto the large rocks that were either side of the river. As we got closer it was time to start rowing hard. The waves took over and we were flying through the water, desperately trying to keep paddling and keep our balance, none of us wanted the raft to flip over! Through the waves I could see the large rocks getting closer, I let out a little scream as the raft headed straight for it but the water had control and threw the raft around the rock missing it by inches. I looked back and saw the raft behind take exactly the same path.
Feeling relieved I carried on with the rowing and found myself laughing every time the waves threw us up in the air, talk about exhilarating! Even though you sit on the edge of the raft, you have your feet securely placed in little foot holders so I wasn't actually worried about falling off, the only way I would end up in the water is if the raft flipped over.
Thankfully it didn't!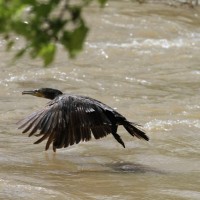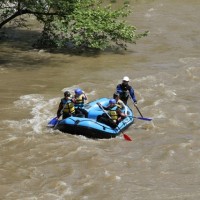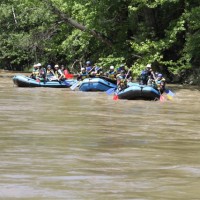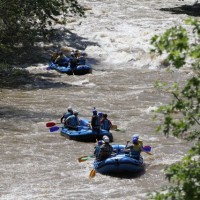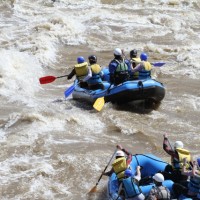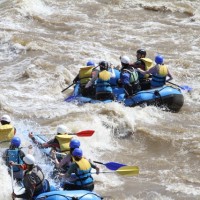 After ten minutes of the rough water we reached a calm stretch which was the end of our journey. We paddled to the river bank and one by one climbed out and pulled the raft up to the waiting vans. I was so delighted, firstly because I had not fallen in the water but secondly because I'd loved every second of it! We were driven fifteen minutes back to camp and headed to the changing huts to get out of our wet clothes. Everyone had loved it and despite being a little cold the whole group were buzzing. We headed inside to pay our 25 Euros each and have a warm cup of tea! We were also really happy to see that the photographer who'd been following us along the river banks had got some great shots of us! It was an additional 5 Euros each to buy the photos which he sent to us by email a few days later.
Happy and tired we got back into the car and headed home. On the way we realised we were starving so we stopped off in the town of Dupnitsa, around 65kms from Sofia at the base of Rila Mountain. We were lucky enough to stumble upon a gorgeous Italian restaurant, Pizzeria Napoli, where we ate really delicious pizzas!
This really was a perfect end to a fun day and by 7pm we were home. All that was left was to have a really hot shower and an early night!
If you try out rafting or any other adventures in Bulgaria, get in touch, we'd love to hear about it!