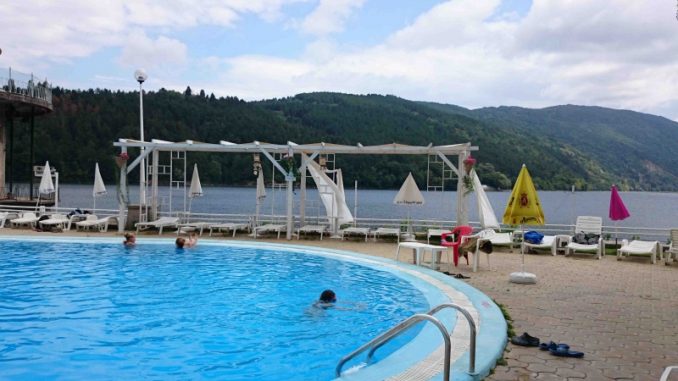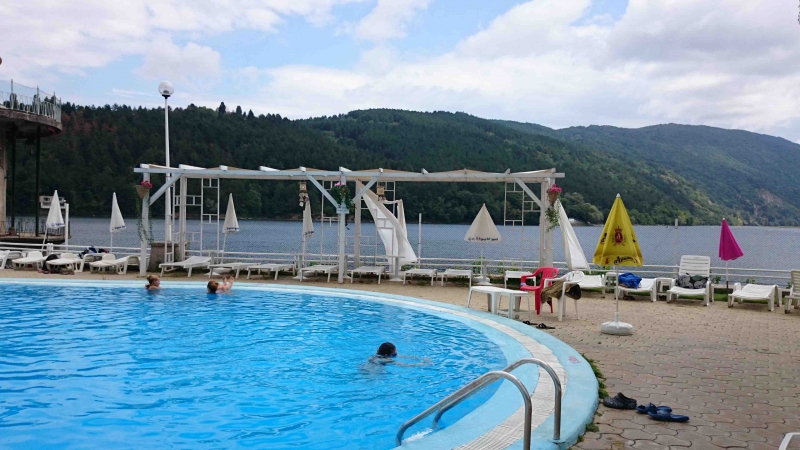 We discovered Korali Pool and Spa Complex last year during one of our trips to Pancharevo, but didn't get a chance to go. That's why I really wanted to go there this summer, but I only got a chance to do it two weeks ago. From outside the place doesn't look like much and definitely needs some repair work, but once you get into the warm mineral pool you forget all about that.
Things we liked:
Water temperature. The temperature of the hot spring in Pancharevo is 49 ˚C and the employees say that the pool temperature is approximately at 37˚C
Two swimming pools. Even though children have the right to go to the big pool, it might be too deep for them, so there's a smaller pool where they can swim and play.
Pool Bar. It is quite nice being able to get something to drink without leaving the pool. There's also a possibility to buy some snacks and food and even an ice cream stand.
Space. Even though there were a lot of people in Korali Pool and Spa Complex the day we went there, it still didn't feel crowded. You can use the pool chairs or bring a blanket and have a picnic in the grass just next to the swimming pool.
View. Korali Pool and Spa Complex is right next to Pancharevo lake, and even though the fence around the place isn't very pretty, the view on the lake and the hills around it is really beautiful.
Price. Most hotels in Sofia offer open pools (and not the heated kind) for 25 – 30 leva per day. In Korali you can enjoy a real naturally heated mineral pool for 10 leva per day (depending on the season this price may be a bit higher).
Things to improve:
As I've said before, the place definitely needs some repair works. So don't expect to find a 5 star establishment with luxurious facilities. Korali Pool and Spa Complex offers a basic changing room and showers.
Pool Bar. It really is amazing to just climb on a chair in a pool and order a juice or a coffee, but unfortunately they also sell food there. And some people prefer eating their "kufte" (meat ball) sandwiches without getting out of the pool. I was terrified seeing a man juggling with his beer and a paper plate with a huge hot dog on it, because for a moment I thought that he'll just drop all of that in the water and we'll all have to swim in his food.
No possibility to hide in case it starts raining. Not even a little tent. Of course, it's really nice to enjoy the fresh air and even swimming in the rain can be fun, but in that case all your stuff might get wet
No lockers. You bring all your belongings with you and you leave them on the pool chair (or grass) while you swim. It would be so much nicer to leave everything in a locker and just swim with a bracelet, like in many aqua parks and pools
Korali Pool and Spa Complex is open all year round, so even if the weather isn't great now, you can still choose a sunny day and spend some time enjoying the nice warm water. The small pool is closed during winter, but the big one stays open. Plus, there aren't that many people actually wanting to swim when it's a bit chilly outside, so if you get lucky enough, you might even get the pool all to yourself!