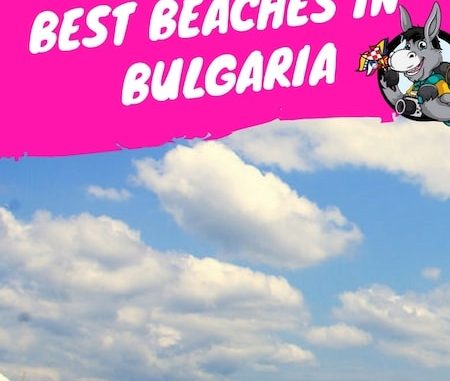 Along the 378 km of Bulgarian Black Sea coastline, magical towns and golden sun-kissed beaches like Sozopol, Golden Sands or Sunny Beach are to be found. Here are the best beaches that should not be missed when traveling Bulgarian Black Sea Coast.
Saxa Beach In Burgas
Burgas ranks as one of the most important cities in Bulgaria, and it is home to the largest loading port in the country. Connections by land and air with Burgas' International Airport are making the city to be on the up and up. Population, tourism and industrial significance have been continuously growing over the recent years.
As far as museums are concerned, thanks to the wide range of offers, Burgas was named one of the most culturally active cities in the country. But the offer does not only include cultural venues for all tastes and ages. The city of Burgas also has one of the largest beaches in Bulgaria: Saxa beach.
Saxa beach takes up most of the city's coastline. Spread over more than 5 kilometers, the beach is full of cosmopolitan bars decorated with Caribbean settings.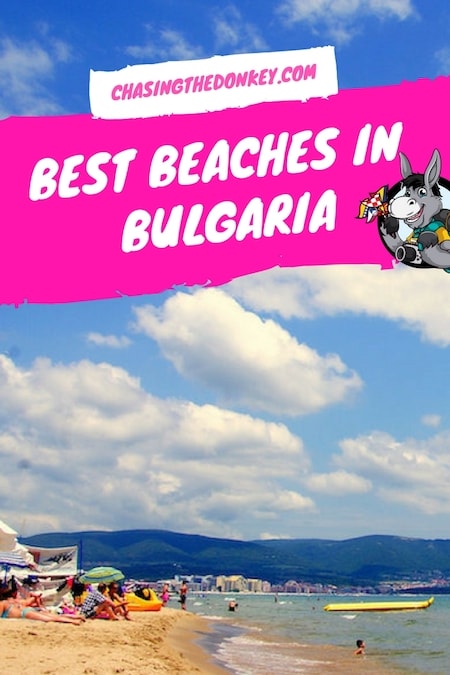 PIN THIS!
Town Beach In Sozopol
Sozopol is one of the country's oldest and most charming towns in Bulgaria. It is located just 35 km south of Burgas.
Wandering the streets of the historical old town, built on an artificial peninsula jutting out to sea, it feels like traveling back to the 17th century. Following the architectural style of the Black Sea, Sozopol has kept the original stone-paved streets, and the wooden buildings remain intact.
The city is also home to the wide Harmani Beach and the smaller Town Beach. Town beach is the most popular beach among tourists because of the panoramic views of the old town. It can be accessed from the main city promenade.
The seafront walkway, filled with souvenir shops and open-air restaurants, is the best place to enjoy the traditional Bulgarian "shopska salata" (шопска салата).
Bolata Beach In Kaliakra Cape (4 Km)
More than a village, Kaliakra is part of a natural and archaeological reserve. Among those mentioned before, this is the northernmost beach of the Bulgarian Black Sea coast.
Kaliakra's 60-meter-high cliffs stand to form a rocky peninsula and offer spectacular views over the line of the Bulgarian coast.
Bolata beach is only about 4 kilometers from Kaliakra, and mainly local families go here. The beach is shaped like a little bay surrounded by rock massifs with cave openings that create a perfect semi-circular shape.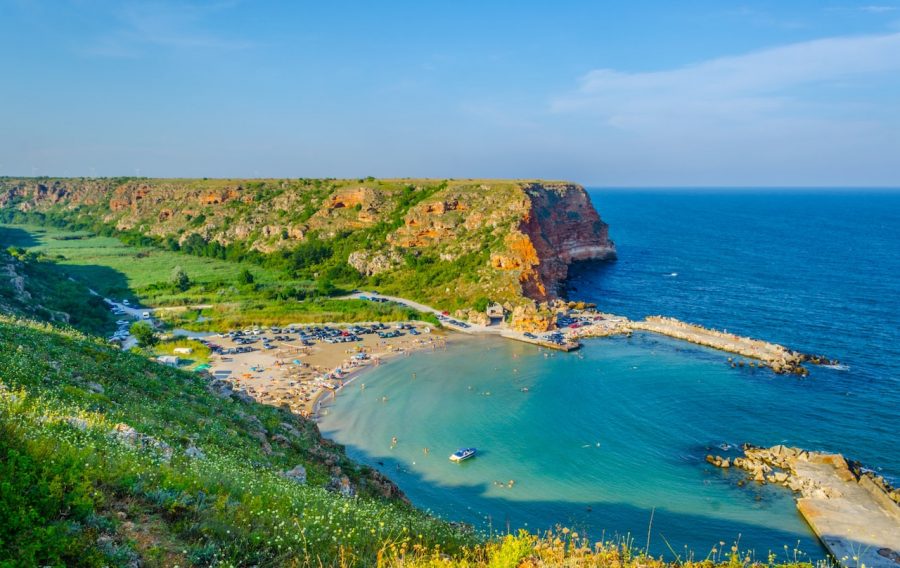 The area also includes one of the few Bulgarian marine reserves. Several small private boats and yachts anchor to the short pier during the summer days.
Varna – Golden Sands (15 km)
Varna is a must when visiting Bulgaria. There are plenty of wide avenues, a legacy from the Bulgarian Communist years, and buildings facades that follow architectural styles imported from Western Europe.
Varna is also called "the capital of the Black Sea" for both the cultural and economic significance. Nowadays, their modern port, railway station and international airport connect with more than 35 countries and 100 cities around the world.
The city's economy is increasing with tourism coming mostly from neighboring countries such as Romania, only a few kilometers away; Ukraine and Moldova just across the Black Sea; and the Balkans and Turkey, countries that border the nation both on the West and South sides.
The city also has a black sand beach with more than 3 kilometers of sand full of bars and terraces right next to the "Primorski" green area. However, locals prefer to drive 15 kilometers to get to the 4-kilometer-long Golden Sands beach (Zlatni Pyasatci), one of the most popular beaches in the country. Sometimes also described as one of the best in Europe, the beach can be reached by bus or by car following the Republic road I-9 (Републикански път I-9), the main road in Eastern Bulgaria that follows the black sea coastline. Bring a sand free beach towel.
Balchik's Central Beach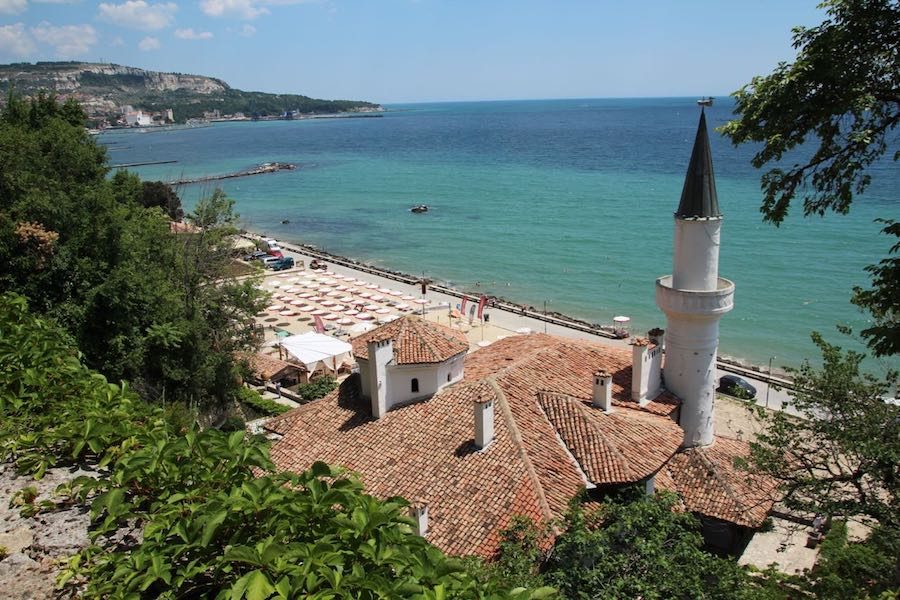 Balchik could be described as small and lovely. While many people see it as an idyllic place to enjoy their holiday, locals fear that it could soon turn into a massive summer party destination. In the last years, dozens of new second homes and summer apartments have been built, which has increased tourism.
Balchik is really so charming that even Queen Mary of Romania built a palace with more than 65.000 m2 of gardens surrounding it. The palace is also full of symbols from different religions because of her personal interest in theology.
Just as any other Bulgarian coastal town, Balchik also has its own beach where to enjoy the summer days. The biggest beach "Central beach" is located on the outskirts of the city, right after the Balchik Pristanishte Terminal, the city port terminal. However, small beaches can be found all along the 2.2 km of coastal town promenade. Most of them also have their own beach bar, such as "Tanino beach."
Nesebăr & Sunny Beach, The Most Popular Beaches In Bulgaria (3.5 km)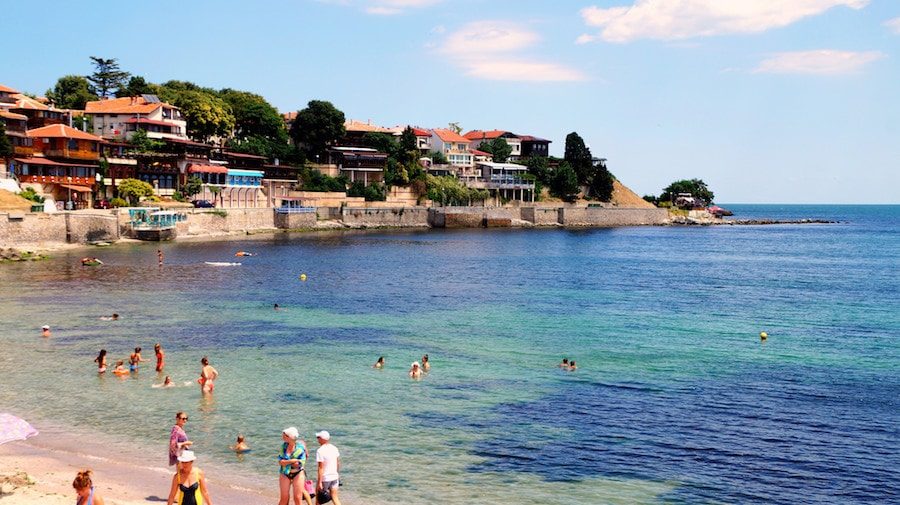 Sometimes described as the "Pearl of the Black Sea," Nesebăr was awarded the "World Heritage Site" status in 1983 by UNESCO because of the numerous and well preserved historical buildings in the old town.
The city has historically been under Greek, Byzantine and Ottoman rule. This mix of cultures and architectonical styles turned Nesebăr's old town into one of the most romantic ones on the Bulgarian coast. Built around narrow streets, nowadays the centenary buildings serve as pubs and gift shops for tourists.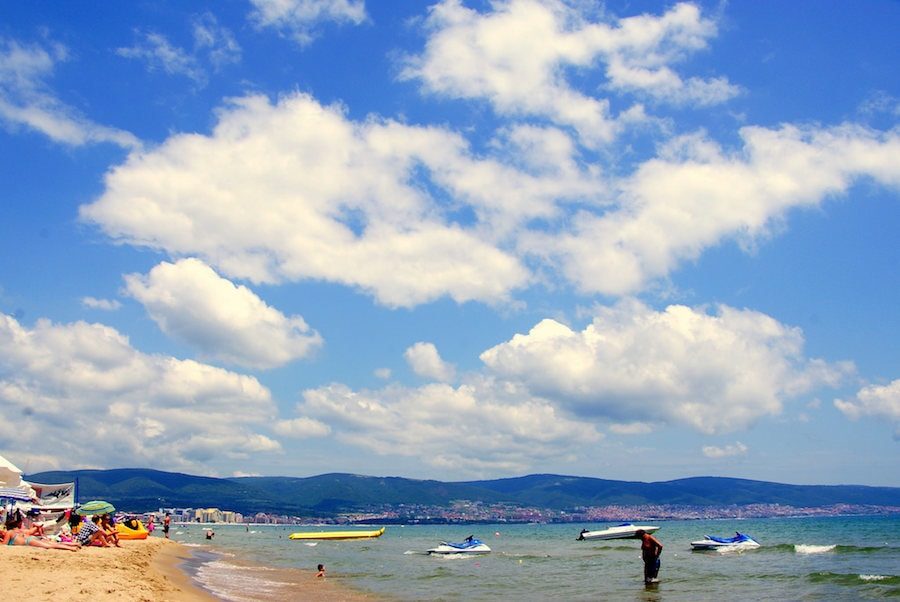 Just about 3.5 km away from Nesebăr, Sunny beach has become the most popular beach among both tourists and locals. Thanks to the 8km of fine golden sand, Sunny beach is considered the country's largest and most fabulous beach.
Sunny beach also has some of the country's last remaining natural sand dunes, which make the surroundings even more spectacular.
However, it is not the best place when looking for a relaxing stay. Loads of restaurants, water sports, hire tents and some of the craziest nightclubs in the country are lined up one after another along the promenade.
Irakli Beach
One of the only remaining truly wild beaches in Bulgaria, Irakli Beach lies in a protected area about 5 kilometers from the town of Emona. The Chaya River meets the Black Sea here, splitting the beach into two different parts and creating a beautiful lagoon. Both parts have a different name, the northern area called Irakli and the southern area known as Chaya.
It's a phenomenal beach for those who are looking for solitude, sand, nature and even nudism. This is, after all, a nudist beach. So, if you're looking to get tan all over, this would be a good place to go. Additionally, free camping is also allowed on this beach, which is a super-fun thing to do on a hot summer's night. Home to plenty of bird life and sea creatures, Irakli Beach is one of Bulgaria's best beaches for wildlife watcher, while artists, activists and naturalists are fond of this particular beach, too.
Sinemorets Beaches
A seaside resort village in the very southeastern corner of the Bulgarian Black Sea coast, Sinemorets lies close to the border with Turkey. This is a very tiny village by any measure, home to just over 200 people, so don't expect any crazy nightlife or major tourist attractions here. Instead, there's wonderful nature in Strandzha Nature Park, of which the village is a part.
Sinemorets is, however, an increasingly popular beach destination in Bulgaria. Previously a favored family destination, it's now also popular among artists and other creative people from Sofia. This has resulted in a welcoming and relaxed atmosphere.
There are actually two beaches in Sinemorets. The main beach, known as Butamyata, lies on the eastern side of the village and is home to a bakery and pizzeria as well as a beach bar. North of the village lies Sinemorets Veleka Beach, which is right at the mouth of the Veleka River. This is an absolutely gorgeous sand beach, but there are no amenities.
Karadere Beach
For even more solitude, consider heading to Karadere Beach, one of the few Bulgaria beaches untouched by mass tourism. Although it's only 5 kilometers from Byala and Goritsa, it's still pretty remote. The only way to reach it is via a bumpy dirt road and when you get there, there are no facilities whatsoever. No electricity, water, cell phone service,… It's the perfect place to get away from daily stress and spend a day or two enjoying human company and nature. Everything's clean here, too, from the water to the air to the mud baths.
Karadere Beach is one of the best beaches in Bulgaria for free beach camping. You can pitch your tent on the very beach or in the forest just above the shoreline. This makes it a popular destination among free-spirited travelers, including artists, nature lovers, water sports enthusiasts, and nudists. Don't be surprised to hear guitars and bongos being played until late at night!
Silistar Beach
Just south of Sinemorets lies Silistar Beach, also part of the Strandzha Nature Park and one of the greatest beaches in the Bulgaria Riviera. Just like Karadere Beach above, this is a relatively remote beach and not that easy to get to. A 1-kilometer dirt road through a coastal woodland offers access to this sand beach, which is about a kilometer long and 50 meters wide.
Even though it's pretty secluded, there are some visitor facilities, such as a basic campground. The charm of Silistar Beach lies in that very remoteness. You won't see people doing shots or drinking copious amounts of beer here, unlike the larger beach resorts in Bulgaria, but you can expect some wildlife viewing, great diving conditions and some nudists. Wild camping is permitted here, too.
More Beaches In Bulgaria To Add To Your List
Irakli Beach
Smokinya Beach
Albena Beach
Beaches in Pomorie
Urban Beach in Varna
Other Travel Blogs For Bulgaria
Best Day Trips From Sofia
Things To Do In Sofia
Things To Do In Bulgaria
Bansko Ski Resort
Bulgarian Festivals
Rent A Car Bulgaria
Where To Stay In Bulgaria
Best All Inclusive Hotels in Bulgaria
More Eastern European Beaches
Best Macedonia Beaches And Cafes
Best Beaches In Albania
Best Beaches In Croatia
Best Beaches In Slovenia
Best Things To Do In Batumi, Georgia
Best Beaches In Montenegro