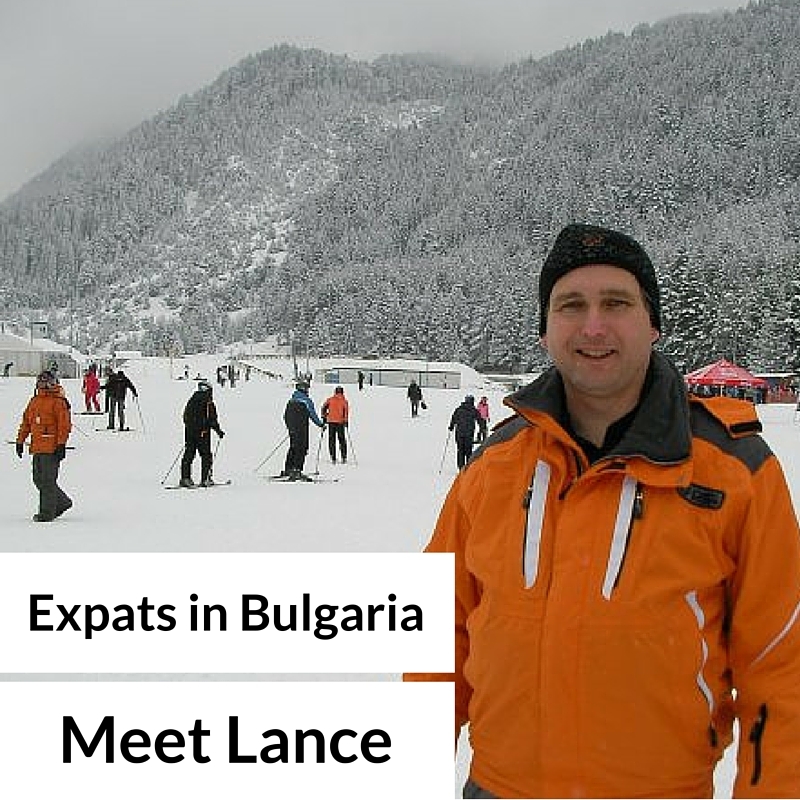 How long have you been living in Bulgaria and what made you decide to move here?
I have been here since the summer of 2011.
I left my twenty plus year career in banking and finance to focus on my work on banskoblog.com, which I started in 2009. But most of all, I wanted to be with my girlfriend, Vanya. She supported me in making the decision to move here. I was ready for the change to self employment and for the move in general.
What are you doing in Bulgaria?
I own and manage banskoblog.com. This is most active for me in winter. I am also busy with appfactory.bg, a mobile app and web development company I share with my business partner Nasko. The company develops resort, restaurant and hotel apps. Our clients are based both in Bulgaria, UK and elsewhere in Europe.
I have a weekly podcast at bulgarianow.bg. Bulgaria Now was started due to the absence of anyone else making this type of show in Bulgaria. It's a way for to learn more about Bulgaria. The interview format is something that I would want to listen to and with you, Rebecca, as my regular co-host I'm looking forward to us having more good podcasting shows together.
What do you like the most about living here? 
Having more time and more freedom than I had in the UK is the number one benefit for me. I do not miss commuting or London life. Here I am constantly being challenged with new, and interesting, work projects. I like most that I have great friends here.
The vibrant, and intense, flavours of the fruit and vegetables are the icing on the cake.
Anything you don't like about living in Bulgaria?
The air pollution in the cities is a an issue I wish the authorities would tackle. There are those bureaucratic processes which make me now appreciate how well such things are run in the UK. Whilst improving, many roads are left in a poor state of repair. Aggressive driving leads to so much unnecessary loss of life.
How do you spend your free time? 
As mentioned, I both ski and paraglide. My 45+ skiing days per season are usually busy producing video and blog content for my site. But I do enjoy free time on the mountain usually involving an early morning ski session with a client — many of which become friends.
From mid August, when our new arrival comes, I will be relishing the times spent with the new family. My free time is therefore about to include nappy changing duties.
You've travelled a lot around the country, where's your favourite place in Bulgaria?
It depends on the time of year — so I'll give you a few places. In winter, it's Bansko for me. And especially I look forward to the late season from mid March to early April. This is the best time for off piste, as well as on piste, skiing. The Bansko apres ski scene includes fun party times at the venues with live bands.
Spring Summer and Autumn sees the thermals rising on the Stara Planina mountain range above Sopot, near Karlovo. The chair lift there up to take off makes this my favourite place for my paragliding flights.
The dramatic Pirin mountain range, above Bansko, transforms itself in the summer and takes on a special calm quality from July to late October. My favourite place for hiking.
I also spend a lot of time in Plovdiv. A city that has a vibe that, more recently, makes me want to spend more and more time there. I also regularly go to the Rhodpoi mountains, nearby. There is a village called Dobristan, just up from there is the place to fly northerly breezes. The views from there are spectacular.
Talking of views, Vitosha mountain is a favourite place when I'm in Sofia. Again for flying, but I enjoy a good walk. In Sofia I enjoy people watching down Vitosha Street and then satisfying my sushi and sashimi cravings at one of the many restaurants wraps up a good city day for me.
On the Black Sea coast, Sozopol is the place I visit when the seaside calls. Best in September.
If you could give one piece of advice to someone moving to Bulgaria to start a business, what would it be?
I suggest taking proper legal and accountancy advice. As this is a topic I talk about a lot, I would also advise you to take your time before starting a new venture.
Come here first, and never rush into anything. As a foreigner, be mindful you are new to the Bulgarian culture. Network actively for new friends and focus on getting out and meeting others.
Finally, try not to copy the established businesses that you see here; bring something new to the market. Bulgarians are more widely travelled and adventurous than ever before and this is the best time I've seen for a foreigner to establish businesses that satisfy that demand.